Invisalign vs Braces Cost
Dental braces today have received its fair share of innovations and changes over the years. Patients nowadays will be able to choose what type of orthodontics North Sydney they would like to fix their misaligned teeth. They can have the traditional braces or the newest addition to the dental brace line up called Invisalign. Let us look at Invisalign vs braces cost to see which one will be worth your time and investment. 
Invisalign vs Braces Cost in Sydney
Around Sydney, teeth braces are really quite expensive which is why searching around for special offers is recommended to get the best deal. In most dental clinics, traditional braces range from $8,000 – $15,000 whilst Invisalign cost ranges from $7,000 – $9,000. The exact braces cost could only be determined once you had your check-up with the dentist. 
How Much is Invisalign and Traditional Braces at North Sydney Dentistry?
North Sydney Dentistry currently has Invisalign special offers making it quite affordable as compared to most dental clinics. Our Invisalign cost in North Sydney starts from $4,300 – $7,790 depending on the package needed. As for the traditional braces, our other branches: Sydney CBD Dentistry, Hornsby Dental, and North Ryde Dentistry will be able to offer you this type of orthodontic treatment. The braces cost starts  from $4,500 – $6,000+ depending on the complexity of your teeth.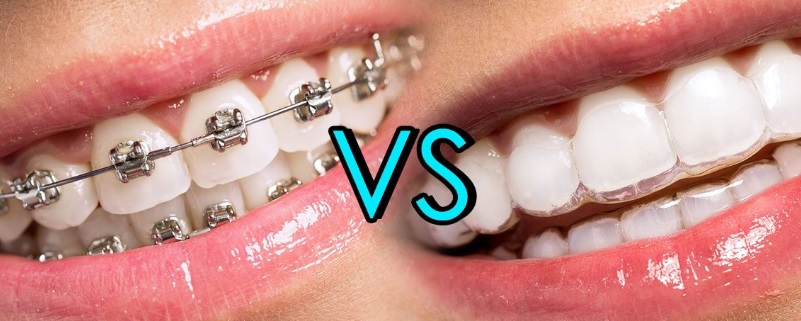 The cost can be a huge contributing factor in making a person want to try a particular procedure. So, are Invisalign braces cheaper than metal ones?
Invisalign is known to be a little bit more expensive when compared to your traditional braces but the added cost comes with some quality of life changes. For starters, this type of orthodontic treatment is almost invisible making it harder for others to see them. On the other hand, traditional metal braces can also be more expensive than Invisalign especially when your teeth situation is more complex.
It should be noted that one of the main issues people have with traditional braces is their aesthetic as they don't look pleasing to the eye, especially the metal variants. Invisalign can help remedy this issue with transparent braces giving their wearers a boost in confidence and self-esteem. Furthermore, they can also be easily removed allowing patients to eat or drink whatever they want. 
Some patients want to know what's more effective braces or Invisalign regardless of their cost. Although Invisalign provides a huge amount of convenience, their treatment period may take longer to complete because they are removable.
Several patients forget to wear Invisalign again for a long time which can hurt the treatment process. Several individuals have misplaced them which adds to the extra expense as they are costly to replace.
Also, depending on your case, Invisalign may not be for you especially when your teeth are complicated to adjust. Regardless of what type of dental brace that you are wearing, what is important that you follow the advice of your dentists.