Website Special
Payment Plan Available: Composite Veneers at $550 each and Porcelain Veneers at $1100 each (only for a package of 6+ veneers).
Don't need a payment plan? Pay upfront and get a further 10% DISCOUNT! Composite Veneers at $495 each and Porcelain Veneers at $990 each (only for a package of 6+ veneers).
Item # 015; 074; 556 per porcelain veneer; 526 per composite veneer.
Any surgical or invasive procedure carries risks. Before proceeding, you should seek a second opinion from an appropriately qualified health practitioner.
North Sydney Cosmetic Dentist - CASE 1
Patient is concerned about tilted in teeth, prefers a fuller and more even whiteness to the smile.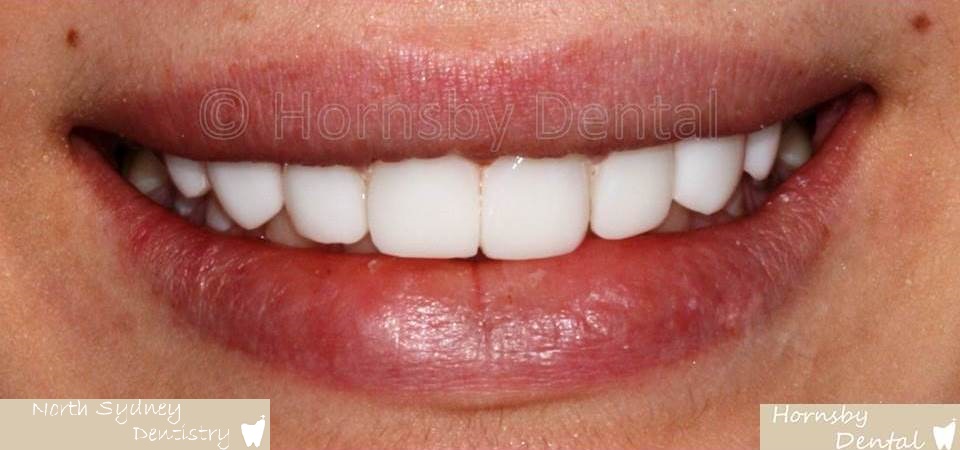 Ceramic veneers were placed with no reduction to the tooth structure as this is purely an addition to the surfaces of the teeth rather than a material modification.
North Sydney Cosmetic Dentist - CASE 2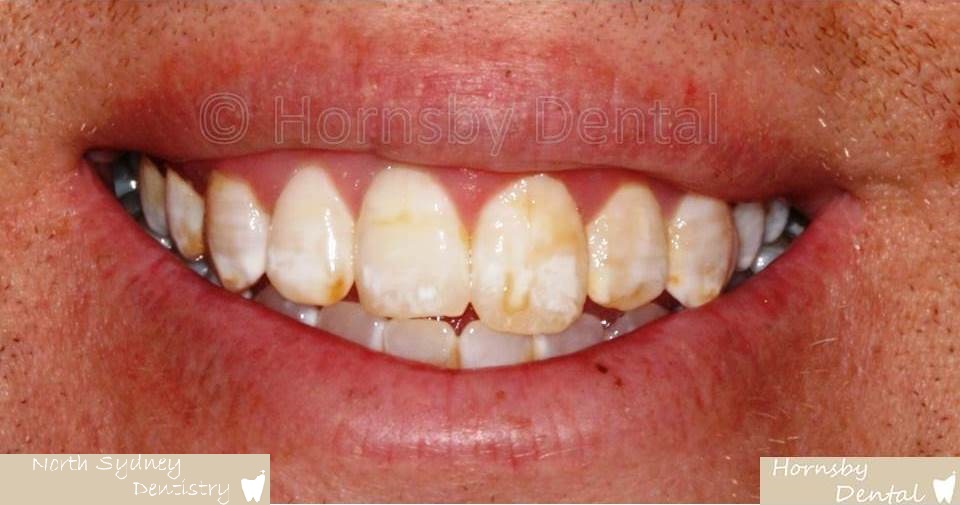 Fluorosis is an aesthetic problem that bothers many patients.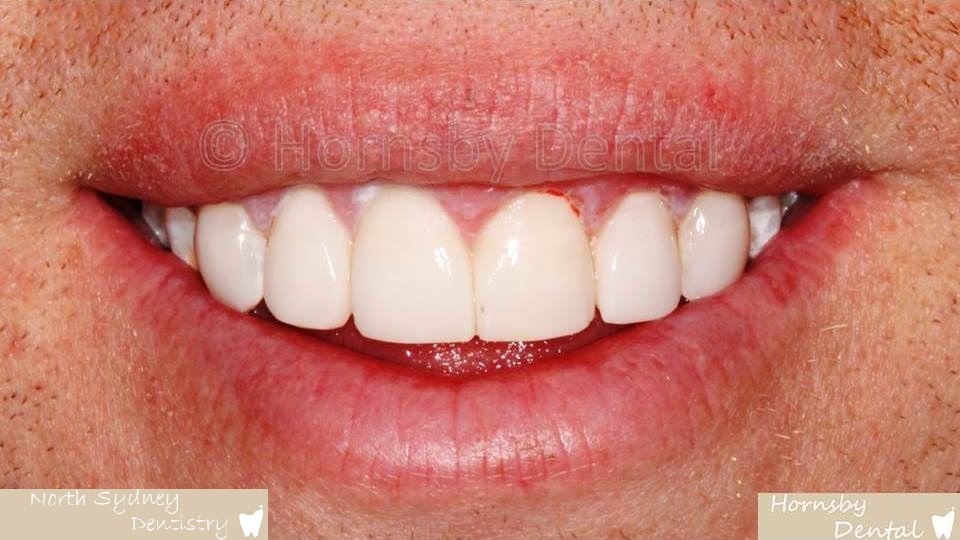 It is not difficult to correct, but every patient has to decide whether it is a concern enough for them to go through dental veneer treatment. In this case, the patient has a thin layer of discoloured enamel removed from the superficial surfaces of his teeth, with no anaethetic required. The end result was more aesthetically pleasing, without any risk of dental nerve injury.
1) Porcelain Veneers:Emax is one of the most popular, dominant dental ceramics around, indicated for a variety of treatment options, most notably, dental cosmetics. Dentists have successfully utilised this ultra-strong dental ceramic for more than a decade with proven track record.
Our dental ceramist based in Sydney is pleased to present us with a discounted rate due to our work volume and to benefit our patients, we feel it is important to pass on this discount. We also have a CEREC machine which can handle simple cases less than 6 teeth, and is ideal for those who are in a hurry as it can be completed in a single-visit.
We strongly recommend for cases with more than 6 Veneers to be completed in 2 visits minimum as the smile design process is rather complicated and the dentist may recommend a trial period with temporaries prior to placing the final Emax veneers.
Further discounts may be applicable for those requiring more than 10 Porcelain Veneers as we will pass on any cost savings from a higher number of units.
A nightguard may be advised by the dentist to protect the Veneers.
2) 5 year limited warranty for Porcelain Veneers is limited to breakage of material, and does not cover for pre-existing or newly developing dental diseases not related to the veneers. Patients must present for regular scale and clean maintenance 6 monthly at any of our practices to be eligible for this warranty to ensure good health and maintenance of oral hygiene.
3) No warranty is applicable to composite resin dental veneers as studies show the material is conventionally believed to be a weaker material than Porcelain resin material. Aesthetic of the composite resin veneer is comparable to ceramic veneer initially, however strength and resistance to staining is poorer and more maintenance may be required. A nightguard may be advised by the dentist to protect the Veneers.
4) Veneers may not be the ideal dental treatment for every dental cosmetic issue. Upon consultation, the dentist will discuss with you the best option rather than initiate the work without gaining your consent.
5) For those patients who have received composite resin veneers from any practice within the year, for $1100/tooth, you can replace your composite resin veneers with Emax Ceramic Veneers. Patients with existing composite resin or ceramic veneers may be eligible to our upgrade promotion. A consultation is necessary prior to beginning treatment as not always will ceramic veneers be the ideal treatment for dental cosmetic problems.
Save 30% on Dental Veneers