Dental Implants at North Sydney Dentistry:
Payment Plan Available: Dental Implant + CEREC Crown package from $3,999 per tooth.
Don't need payment plan? Pay upfront and get a further 10% DISCOUNT at $3,599 per tooth.
Website Special Conditions:
Offer subject to change or update without notice. Must mention this special when you are booking your appointment. 5 year warranty applies to patients who have attended for regular six month gap-free check-up and clean at any of our surgery locations (for those without health funds this is capped at $175 per visit). Because every case is different, consultation prior to treatment is required (at standard consultation fee) to determine if your case is eligible for this special. For example, major bone graft cases need collaboration with specialists, but for most basic implant cases involving up to 3 implants, this special is likely to apply.
Implant placement and complete restoration for missing tooth. Discounts available for multiple Implants
Illustration of a Normal Tooth vs Dental Implant and Crown Restoration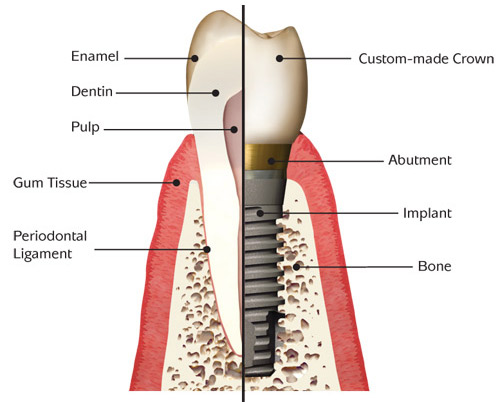 Dental Implant information:
When a tooth is removed, the gap in the jaw can limit one's chewing ability. To further complicate the issues, the adjacent teeth and opposing tooth can grow into the missing tooth's space, messing up the occlusion altogether. A dental implant is a restoration designed to replace the missing tooth without any damage to the adjacent teeth. It consists of a medical grade titanium alloy fixture embedded in the jaw bone, with a dental crown fitted on top of it. It mimics the aesthetic and function of the natural tooth. For whatever your reason that your tooth is loss, consult with your dentist whether dental implant is suitable for you.
In suitable candidates, this procedure can also be used to also replace a whole arch of missing teeth. No more loose dentures.
What are the benefits of dental implants?
1) Restores the look of your simle in a natural manner that does not cause any deterioriation of any other surrounding teeth;
2) They can help to preserve the remaining jaw bone structure, such that the jaw bone where the missing tooth is does not deterioriate
3) Enables you to regain your ability to speak and chew and also helps to reduce the probability of future infections or gum problems.
Why are dental implants needed?
Losing a tooth can be a traumatic and uncomfortable experience. Due to advancements in medical technology there are multiple options to restore your tooth to its full functional capacity. Gone are the days of old fashioned removable denture plates. At North Sydney Dental we offer fixed solutions to a missing tooth. Dental implants are titanium fixtures implanted into your jaw bone to act as roots for your teeth. Unlike the bridge procedure, dental implants have the benefit of not disturbing the adjacent teeth. The Dental Implants at North Sydney Dentistry are made from pure Titanium.
What are dental implants made of?
The Dental Implants that North Sydney Dentistry uses are made of commercially and medically pure Titanium. This is the same metal that has been successfully used in hip replacements, tried and tested for many years.
Cost?
We offer a competitive rate for our Basic Dental Implant* and restoration (Website special price of $3999). We keep our costs down by performing the procedure EFFICIENTLY and PRECISELY, as well as utilising state of the art dental equipments such as low radiation Cone Beam CT scan, CADCAM** generated ceramic crown, and precision milled dental implant system made in USA.
*Does not include bone augmentation/grafting treatment, or soft tissue surgery which may be necessary to improve the function or aesthetic of the implant restoration. Simple bone grafting can be performed at the time of surgery at $300 additional fee. For procedure that requires specialist care, a referral will be made to one of our trusted specialists, or one preferred by you.
** Cerec chairside crown made to fit the implant abutment is the standard treatment provided with this promotion. If you prefer an implant crown made by a dental lab, the dentist will advise you of the lab fee that may incur on top of the promotional price.
Unlike some surgeries, our quote will usually cover most of the procedure including the Cone Beam CT scan, implant surgery and implant crown. Additional gum surgery and bone augmentation/ gragting is not included as part of the quote and can be discussed during consultation and review. 5 year warranty applies to patients who have attended for regular six month gap-free check-up and clean at any of our surgery locations (for those without health funds this is capped at $175 per visit).
How do you make it look like a normal tooth?
An Implant Crowns is required, which we make in-house in a single visit. Visit our page about Dental Crowns for more information about this. We offer the Dental Crown restoration as part of the Dental Implant treatment package.
For more information on dental implant costs and dental implants in general, please contact our helpful staff at North Sydney Dentistry on (02) 8090 1108, visit our practice at Suite 102, 71 Walker Street, North Sydney or e-mail us on info@northsydneydentistry.com.au with any questions you may have.