Dental Crowns and Dental Bridges
Dental Crowns are used to repair teeth that have been worn down due to grinding, an improper bite, age, fillings and tooth decay. When the entire surface of a tooth is a problem, but the root system is intact, a tooth crown may be suggested. They cover the surface of the affected tooth, adding strength, durability and stability. There are different types of crowns which are made of different material. Ask one of our friendly dentists at North Sydney Dental Care about which option best suits you.
North Sydney Dental Crown Package: Single-visit Dental Crowns* Now Only $1,650 each.
For the benefit of our patients, we are pleased to offer 1 visit Dental Crown procedures, saving you time and offering you the best convenience. This only applies to CAD/CAM ceramic crowns.
We offer Dental Crowns from only $1,650 each*, with a 5 Year Limited Warranty** using latest CAD/CAM technology to make the Dental Crown to be fitted in a SINGLE VISIT. These are high quality as they are designed and made in-house by our Dentists. No need to wear temporary crowns and take 2 visits as with normal procedures.
Prices subject to change or update without notice.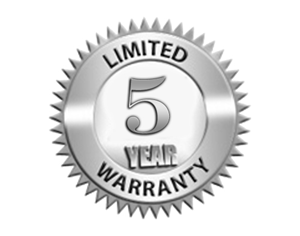 *Note: Conditions apply.
**5 Year Limited Warranty key conditions: 1. Patient has to retain their receipt, 2. have twice a year routine 6 monthly dental check-up and cleans at any of our practice location during the warranty period. The warranty will cover for a free replacement of the same Dental Crown restoration if it failed due mechanical failures only, such as fractures or de-bonds. The warranty however, does not extend to trauma/accident related failures, dental decays, gum diseases, or a need for root canal therapy otherwise recommended by the treating dentist prior to the commencement of treatment.
Implant Crowns not included in this package and indicative pricing is $1,750 depending on material and component costs.
To speak to one of our friendly staff about the offer, call (02) 8090 1108 or e-mail us at info@northsydneydentistry.com.au for any questions that you may have. We will respond to all e-mails and Voicemails within 1-2 business hours.
We also have a second location at Hornsby. The above offer and conditions also applies there. If you would like to visit Hornsby, please call (02) 8090 1100, or e-mail us at info@hornsbydentist.com.au for any questions. Feel free to visit our website at: www.hornsbydentist.com.au
We present a range of options for you to choose which treatment option you would like to select.
The dental crowns we offer in our practices include:
Dental Crowns
Typically, you will find that the average cost of Dental Crowns in Sydney ranges from between $1,800 to $2,300+.
Most dental practices require 2 visits, and for cheap crown options, some also use offshore dental labs in China to make the Dental Crowns to reduce the cost (likely at the expense of quality).
At North Sydney Dentistry, we make our Dental Crowns in-house to ensure quality and to offer Dental Crowns in only 1 visit. This has the benefit of saving you both time and money. You will also find it an interesting process, as your Dentist at North Sydney Dentistry shows you the process of designing your dental crown and then watch the dental crown being made in our high tech precision milling unit.
Please take a quick look at the rest of this page below to find out more about Dental Crowns and how we make the crowns in-house at North Sydney Dentistry. If you have any questions, please feel free to speak with one of the friendly North Sydney Dentistry team on 8090 1108 or email us at info@northsydneydentistry.com.au for any questions and we will respond to you within 2 business hours.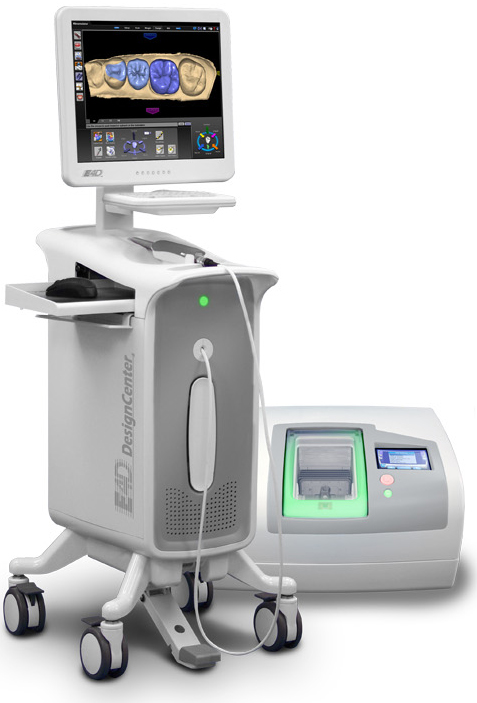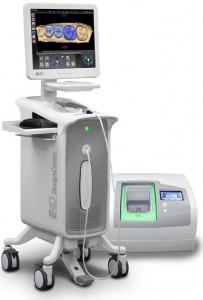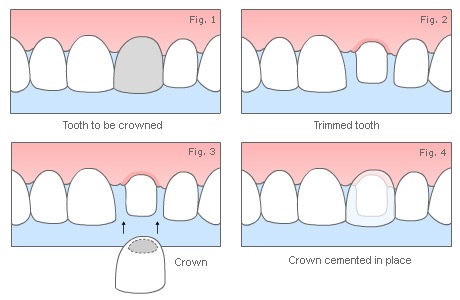 What is a dental crown?
Our teeth go through large amounts of stress due to trauma, heavy clenching and grinding. Over time this stress causes our teeth to weaken and greatly increasing the chances of fractures. In order to prevent these fractures dental crowns or onlay are often advised by dentists. Dental crowns cover the entire outer surface whereas the onlay covers only where the fractures are. These types of restoration processors improve both the aesthetics and the natural function of the tooth. The restoration protects the tooth structure from fracture using high strength dental ceramics.
Should I get a Dental Crown?
At North Sydney Dentistry a crown is only suggested to a patient when one of our expert dentists has extensively examined your mouth and is convinced that certain teeth have a high probability of fractures or damage. Patients will be advised as to the best course of action as each individual case is different. All recommendations are made in the best interests of our patients and will be clearly explained and discussed with you before any treatment proceeds. We consider ourselves to be conservative dentists and all restorative options will be discussed.
A crown is a dental restoration that encapsulates a tooth, giving patients the protection against many of the harmful agents we place in our mouth on a daily basis. Extreme temperatures (hot and cold), hard or tough foods, or acidic fruits and drinks damage our teeth overtime. If you experience sensitivity or discomfort a dental crown may be the answer to your problems. However, they are not inexpensive; we believe that cost should not stop patients from protecting their teeth or from enjoying the finer things in life. This is why we provide this service at a reasonable rate as recommended by the Australian Dental Association median dental fees. We proudly offer some of the best pricing in the north Sydney area.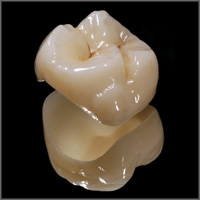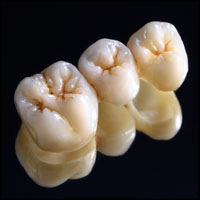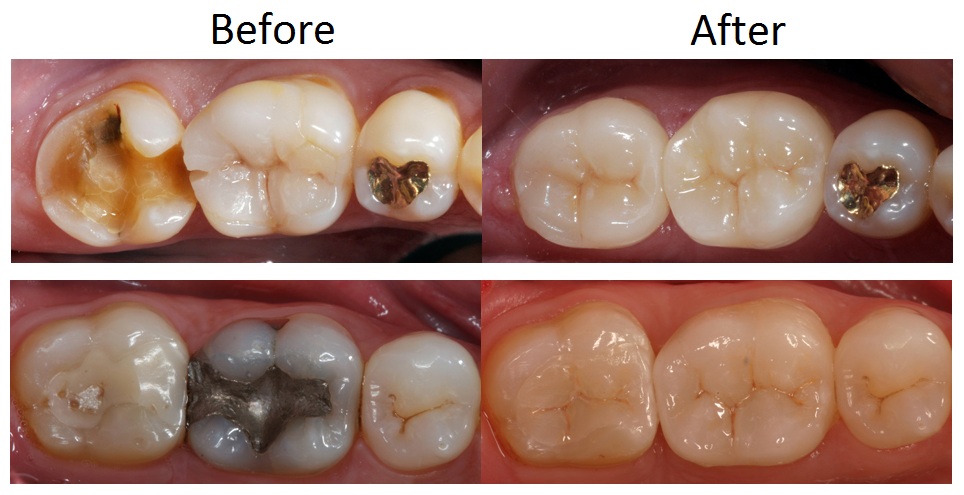 Single-Visit Ceramic Restoration/Crown
Dental Bridge
Dental Bridges are a fixed option to restore a missing tooth. The procedure is used in similar circumstances to a removable partial denture (plates). The advantage of a bridge is that it is cemented in place and does not need to be removed. During the treatment, the abutment teeth are reduced with a crown preparation to allow for the high strength framework material and veneering ceramic to be put in place. This dental restoration procedure is an alternative option to replace a missing tooth when a patient is not a suitable candidate for either a surgical implant or removable dentures.
At North Sydney Dentistry, our dental bridge cost starts around $4,350 per tooth. Hence it is recommended to book in a consultation appointment for a full mouth examination and treatment plan in order to know the definite quote for your dental bridge.
If you are still unsure on which option is right for you, please contact us on 8090 1108 or email us at info@northsydneydentistry.com.au to speak with a member of our expert dental team.
**5 Year Limited Warranty: Our 5 year limited warranty period only applies for patients who return for twice a year routine check-up and dental cleaning at our practices throughout the life of the warranty period. Applies only to damage caused to Dental Crown.