What is Invisalign?
Invisalign is an invisible way to straighten your teeth. Unlike traditional metal braces, Invisalign uses invisible aligners to gently shift the teeth into position. These clear aligners are similar to clear plastic retainers and need to be changed weekly or fortnightly depending on the patient's treatment plan. They are comfortable and clear making it virtually invisible and undetectable. By using Invisalign latest technology in their patent plastic and their clinchek program. More complex cases can be completed with Invisalign Sydney. Cases such as overcrowding, gap teeth, overbite, underbite, crossbite and open bite. In most situations the dentist will perform an interproximal treatment to allow the patient's teeth to have enough space to align. When comparing Invisalign braces to traditional metal braces, they both use the same method of applying pressure onto the teeth to straighten. However the tool of  appliance to do so is different, so where invisalign has a clear aligner system that can't be detected. Traditional metal braces have an advantage of completing the treatment quicker with the force of the metal arch wires. To understand and learn more about Invisalign treatment, please book in a consultation appointment at North Sydney Dentistry on 8090 1108.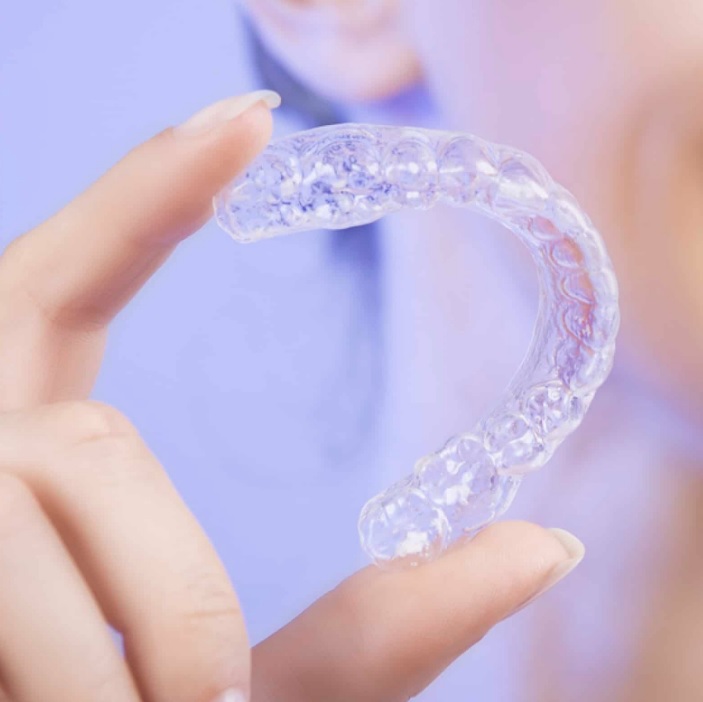 Invisalign Cost in Sydney
Around Sydney, Invisalign cost about $7,000 – $9,000 depending on the type of Invisalign that your teeth needs. It is quite costly as compared to North Sydney Dentistry that offers cheap Invisalign with payment plan as well.
How much is Invisalign at North Sydney Dentistry?
At North Sydney Dentistry we have four different Invisalign packages to suit any type of Invisalign treatment. To see which package you fall under, please make an appointment with our experienced dentists to examine your case. Invisalign cost in North Sydney has four different packages: Express, Lite, Moderate and Comprehensive ranging from $4300 to $7790.
Express Package: $4300, that gives you up to 7 aligners

Lite Package: Invisalign Lite cost Australia is $6,690, that gives you 14 aligners and 2 sets of refinement for 2 years

Moderate Package: Invisalign moderate cost is $7,590, that gives you 26 aligners and unlimited refinements for 2 years

Comprehensive Package: Invisalign Comprehensive package cost $7,790, that gives you unlimited aligners for 5 years
So if the patient's situation is a complex case, the comprehensive package will be the most suitable to allow flexibility and multiply adjustment made throughout the process. If there are any movements or shifts that occur within the 5 years. Additional aligners can be ordered to move them back into position.
Is Invisalign Cheaper than Porcelain Veneers?
Invisalign can be more expensive than porcelain veneers depending on the complexity of the case. If patients are happy with the shade, size and shape of their teeth, but are looking to straighten their teeth. Invisalign price can be cheaper, if their teeth are slightly crooked or gappy and that's the only concern for the patient. However if you are unhappy with the overall size and shape of your teeth. Getting porcelain veneers can improve your whole mouth dental aesthetic by correcting slightly crooked or gappy teeth and making them symmetrical as well as brighter and whiter. Having mentioned that if your situation is complex with overcrowded or crossbite you may need to combine Invisalign and porcelain veneers together to achieve a functional and aesthetic pleasing smile. At North Sydney Dentistry our experienced dentists have treated multiple cases with Invisalign and porcelain veneers combined. Please call us on 8090 1108 to book in a consultation appointment with one of the dentists to discuss and plan your options and treatment plan.