What Are Braces?
Dental braces or orthodontic treatments are an appliance to help straighten your teeth. Not only can they improve the aesthetic aspect of a person's teeth, but it can also provide proper functionality to the jaw. By moving the teeth and gums into the right position, teeth braces can spread the bite pressure evenly amongst the teeth. This provides comfortable functionality with good long term dental health benefit and straight looking teeth. 
Using constant pressure to help shift the teeth slowly in the right direction, the jaw bone and roots adapt to this force and allow the teeth to move. So whether you are deciding to get traditional metal braces or Invisalign (clear aligners), both orthodontic treatments use the same principle to straighten the patient's teeth.
Other than changing the appearance of your smile, some patients may require dental braces to improve their overall functionality. Overcrowding or crooked teeth can make it difficult to keep good oral hygiene where food can get trapped and brushing can be tough. Too much space or gappy teeth may not look appealing but it can cause problems in eating and biting as well. While overjet (upper front teeth that stick out too much), overbite (lower teeth that bite too far behind your upper teeth), underbite (lower teeth bites in front of upper teeth) and crossbite (upper teeth fits inside lower teeth) can cause long term jaw issue with uneven bite pressure causing pain to certain tooth.
Average Cost of Braces in Sydney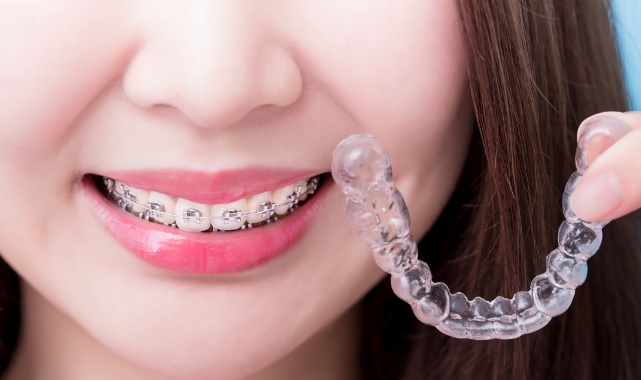 In most dental practices in Sydney, their braces cost range about $8,000 – $15,000 depending on the complexity of the case. On the other hand, Invisalign Sydney costs about $7,000 – $9,000 depending on what type of Invisalign you need. It really is expensive which is why searching for a dental clinic that offers excellent quality yet cheap braces in Sydney is recommended. Comparing their Invisalign vs braces cost is advisable.
How Much Do Braces Cost at North Sydney Dentistry?
Depending on the individual's circumstance, orthodontic treatments at North Sydney Dentistry can range from $4,300 to $7,790. Also considering what type of braces the patient would like, the Invisalign cost or metal braces cost Sydney will vary. For patients who are looking to get Invisalign at North Sydney Dentistry we have four different Invisalign packages to suit everyone's treatments.
Express Package: $4300, up to 7 aligners

Lite Package: $6690, up to 14 aligners and 2 sets of refinement for 2 years

Moderate Package: $7590, up to 26 aligners and unlimited refinements for 2 years

Comprehensive Package: $7790, Unlimited aligners and refinements for 5 years
As for traditional metal braces, our Macquarie Park and Hornsby dental branch in Sydney can provide metal or ceramic braces with our orthodontist Sydney, Dr Philip Song. Traditional metal and ceramic braces cost Sydney from $5,500 to $7,700 depending on the case. For a definite quote, please call our friendly front desk staff to help you book in a consultation appointment with Dr Philip Song.
Caring For Your Braces
Invisalign
Caring for your Invisalign aligners are simple and easy. Like brushing your teeth twice a day, you should also brush your aligners at the same time. It is also ideal to brush or at least rinse your teeth and aligners after every meal to keep them from staining. Also remember to remove your aligners when you're drinking dark colour drinks such as coffee, wine, soft drink and cordial.
Traditional Metal Braces
Getting an orthodontic toothbrush will make brushing and caring for your braces easier. The special V shaped toothbrush allows you to brush your teeth as well as the metal brackets at the same time. Using pikster instead of floss can help remove any interproximal debris and continue visiting our practice for your routine check up and clean to get rid of any build up.