What are dental implants?
A dental implant is an option for patients who have a missing tooth and would like it to be replaced. The benefit of a tooth implant is that it does not interfere with the neighbouring teeth and it is a stand alone fixture.
There are 2 types of dental implants, Zirconia and Titanium and it comes in two parts, the implant screw and the implant crown.
The implant screw is a metal screw like appliance that gets placed into the jaw and acts as a tooth root. The jaw bone will grow around the thread of the implant screw which will merge and integrate to enable the implant to hold and stabilise. Once the implant has been completely healed and created a good foundation for the new tooth.
The second stage of the dental implant surgery is implant crown will be placed on top. Upon completion, this tooth implant will look and function as your natural teeth, where the dentist will design the implant crown to match your other teeth in size, shape and shade.
Is Dental Implant Suitable For Me?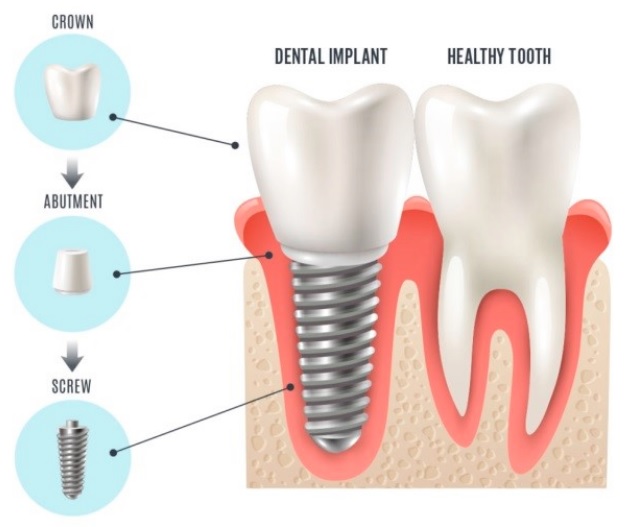 The durability of dental implants make tooth implant the best option on replacing a missing tooth, however the patient must have suitable oral condition for the tooth implant to succeed. To find out whether your oral circumstance fits into the criteria for dental implant, book in a consultation appointment with our experienced dentists at North Sydney Dentistry for a full examination.
Some situations where teeth implants Sydney may not be suitable for patients is when the jaw is not fully grown, such as teenagers or the jawbone is considered unhealthy and too weak. Unhealthy jawbones can come from periodontal diseases or medical conditions that can affect the bone from healing.
Either way it is best to discuss your medical condition with the dentist to see if there are other options to receiving dental implant, where sometimes bone grafting is required to support the patient's condition.
Dental Implants Cost in Sydney
The average tooth implant cost in Sydney can be a very expensive treatment ranging from $6,000 to $9,000 per tooth. Full mouth reconstruction cost in Australia is very pricey which is why searching for the best cosmetic dental implants that offer the best deal is highly recommended.
Dental Implant Price at North Sydney Dentistry
At North Sydney Dentistry we are able to cut down costs with our advanced state of art dental technology and system that allows us to provide our patients more affordable dental implants. Our tooth implant package cost $5,199, which provides the titanium dental implant and our CEREC dental crown.
Also remember if you do have private health insurance, you may be eligible to claim some back from them. Otherwise our North Sydney dental practice can offer you payment plans with ZipMoney. To find out more on cost, quotes and payment plan options please call us on 80901108 and we can book you in for a consultation appointment.
Caring For Your Dental Implant
Just like your normal teeth, caring for your dental implant is no different from your normal teeth. Since the outcome of tooth implant treatment is a stand alone fixture, patients are able to brush and floss their teeth with no special care. Keeping this in mind it is still advised to maintain your 6 monthly routine check up and clean with our dental branches within Sydney.