Veneers are custom made shells that are used to permanently cover the natural teeth and is part of cosmetic dentistry that is becoming popular by improving the appearance of a person. Veneers are used for changing the size, colour and shape of the natural teeth. There are two types of dental veneers: porcelain veneers and composite veneers. Not all dental problems though are fixed by dental veneers.
Here we have a list of common dental problems that could use the help of veneers.
Teeth that have gaps in between, veneers will be used to close that space.
Chipped or broken teeth
Irregular or uneven shaped teeth
Teeth that has discolouration
If you are considering of getting dental veneers, you have to see a cosmetic dentist that is good at this type of service. Make sure that you understood the explanation of the dentist about the procedure before deciding because not everyone will benefit with veneers.
The dentist must work with you hand in hand, like they have to know your personality and what you like and don't like about your teeth and the dentist can work with you from there. Since the porcelain veneers Sydney will last for about 10-15 years, you should maintain and enhance it every now and then.
If you are thinking of getting veneers, you have to consider the other teeth as well since not all teeth need veneers. Sometimes the dentist will advise you to do the front or top teeth only as the rest of your smile are still natural.
We also have different shade choices for teeth veneers, we all want that pearly white colour of teeth but the goal of the veneer is to make it more natural looking and sometimes it depends on the nationality as we have different shades and shape of teeth with each nationality.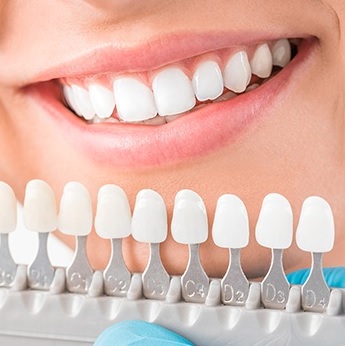 The application of the veneers will take more than an hour and will require more than 1 visit depending on how many veneers you are getting, for 6 veneers and above, it could take up to 2 hours. You will feel sensitivity right after the bonding then there will be pain for about 6 hours after the anaesthesia wears off, your gums will feel sore as well since the gums are adjusting and in healing process.
So how much are veneers? Are veneers worth it? Everyone is saying that veneer is a great investment in one's self. Most dentist are concerned as well if the patient can do a cash payment or payment plan. Veneers cost is high because the making of the initial teeth has to be sent to a laboratory or dental ceramist.
So how much do veneers cost? In North Sydney Dentistry, our composite veneers Sydney cost is only $595 whilst our porcelain veneers cost is only $1,200 for 6 or more veneers or only $1,490 for less than 6 veneers. Since veneers cost about $595 to $1,490 each, we have to keep it looking amazing and maintain oral hygiene with a dental checkup of every 6 months or twice a year to promote oral health. After about 15 – 20 years, you should be prepared to replace the veneers, the old ones will be taken off and it will be the same process.
Veneers